Tohoshinki, DBSK, TVXQ, TVfXQ, TVXQ with an exclamation point, or whatever you chose to call these people, is one of those things that acts like a disease; once you get enchanted by it, it just won't go away, even if you try. (I'll mostly use Tohoshinki here, since the focus will mostly be on their Japanese releases.)
And by Tohoshinki, I mean this:
I'm not going to elaborate on the five versus three, versus two thing, since I think a google search is enough to find you information about the Tohoshinki break-up. I would like to spare the tears of thousands of fangirls, thank you very much. This is not so much a "I want my oppas to get back together" sob-fest, but a recognition of some of the great things they did.  All groups have to come to an end, and their time ended in 2010, with their last, and rather appropriately titled single, "Please Stop the Time."  So in "tribute" to the a ccapella/pop/dance power group of Korea, this "Time Machine" going to take us though several of their songs (I'll try to bring up the lesser known songs,) focusing on the elements that make five membered Tohoshinki, Tohoshinki. With each group of songs, I'll also try to highlight a related, but more recent, song from the Tohoshinki members post-breakup (who are all doing perfectly fine, by the way.) Keep in mind however, that these suggestions will be far from a perfect match. Edit: Be aware that the new duo is also known by all of their old names, so don't get confused.  Just remember the "Similar Songs" section only has the music of JYJ and two membered Tohoshinki/DBSK.
Love in the Ice/Bolero/Doushite Kimi Wo Suki Ni Natte Shimattandarou
A phrase that usually sets Tohoshinki apart from the rest of the K-pop universe is "Perfect Lives." In a genre notorious for lip-syncing, Tohoshinki has made a name for itself as the live singers of K-pop. Most would agree however, that it was their move to Japan that really made them to become the quintessential live K-pop Idol group, to the point that so called "perfect lives" are always expected from them.  "Love in the Ice," "Doushite Kimi…"  and "Bolero" in particular have become hallmark songs for Tohoshinki simply because of stunning their live performance. Of course, the lives aren't actually "perfect," but the emotions and the sincerity behind their voices is truly breathtaking.
Similar Songs: JYJ's "In Heaven," DBSK/TVXQ's "Before You Go." (These are not quite the same, but it will do.)
Darkness Eyes/9095
Tohoshinki is also a group that tends to go in the mature direction with their sound, and are even able to push into the darker corners of pop music.  Two excellent examples of this are "Darkness Eyes" and the Jaejoong composed "9095," which have the perfect haunting touch to them, and are personal favorites of mine.
Similar Songs: Jaejoong's "Mine" and "One Kiss."  (These are more along the rock line, but who cares?)
No?/Zion
Tohoshinki has this thing with retro cum classy musical styles that really don't understand why I like (there isn't that many who like them all that much.)  I mean, it's retro, but these songs are totally catchy and I've rarely seen an album of theirs without at least one throwback, suit-wearing kind of song a la "No?" and "Zion."
Similar Songs:  I haven't seen one yet.  It's one of those Tohoshinki elements lost to time.
Rising Sun/O Jung Ban Hap
SMP has defined a lot of SM Entertainment groups at some point or another, (even through their newest group, Exo,) but Tohoshinki, bar none, embraced the style, made it their own, and shot to fame with it.  "Rising Sun" has always been "TVXQ's Song" and will always captivate fans with their confidence on stage and charisma with this song and "O Jung Ban Hap."  Bring on the screaming, Changmin!
Similar Songs: DBSK/TVXQ's "Keep Your Head Down" and "Maximum." (The latter more so than the former.)
Wrong Number/Break Out/Survivor
The reason I put three here is because I one, felt like it, and two, realized that I wanted to make a category of music that really doesn't exist.  I call this the "quasi-futuristic" sound, that I've seen continue to grow in the Tohoshinki repertoire through today.  Though the "futuristic" elements are no where near the intensity of the Tohoshinki of today, these songs certainly help set the foundation for their post break-up image.
(Or is this just a ploy to just get Tohoshinki in double breasted suits, pinstripe shirts, red ties and perfect hair to boot? Well,that's for you to decide…)
Similar Songs: Tohoshinki's "Y3K," "Blink," "Android," "Superstar," "Humanoids," and "Catch Me." (I really meant it when I said that Tohoshinki's new image revolves around this.)
Hey! (Don't Bring Me Down)/Ride On/Mirotic
The dance part of "dance group" has to come in somewhere, right? So here it is, the moments where the song almost comes second to the dance and the visuals.  It's all about the intensity of the preformance, rather than the song itself, and the allure of Tohoshinki continuously delivers.
Similar Songs: Tohoshinki's "B.U.T," and JYJ's "Get Out," and "Mission."
Whatever They Say/A capella Compliation
No Tohoshinki list could ever be complete without the required a capella performance.  And boy, do they deliver. As always of course.
Similar Songs: Now this, will never, ever happen again…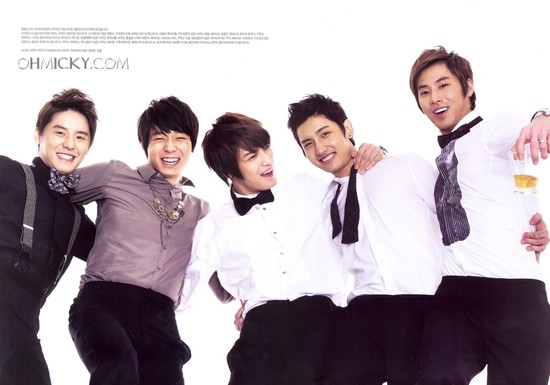 I hope you found this compilation gives you a good taste of what the "Tohoshinki" sound is, and for old fans, a moment of reminiscing the past.  Sometimes, we all want the chance to have Hermione Granger's Time Turner, so I hope this is the next best thing.  Regardless of your faction of allegiance, duo, trio, or OT5, I hope that you can view Tohoshinki, the group of five, at least, as a great group of the past. They were one of a kind because they carried class, charm, variety and talent all in one fantastic package. (Did I mention how seriously classy they were?) It will be hard to ever see such a group in pop music again, let alone K-pop/J-Pop.
Let me know if you like these "Time Machines," (I promise it will not be all K-pop!) in the comments below, and I'll keep posting them. If you would like more Tohoshinki (and Harry Potter references,) please check out the Special Series I have on them!
(Credits go to Youtube and their dedicated uploaders, SM Entertainment)